Pharmaceutical Quality Assurance – B. Pharma 6th Semester Notes Pdf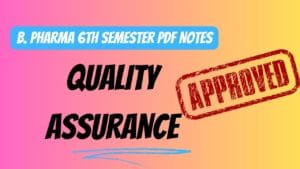 Scope: This course deals with the various aspects of quality control and quality assurance aspects of pharmaceutical industries. It deals with important aspects like cGMP, QC tests, documentation, quality certifications, and regulatory affairs.
Objectives: Upon completion of the course student shall be able to:
Understand the cGMP aspects in a pharmaceutical industry appreciate the importance of documentation
Understand the scope of quality certifications applicable to pharmaceutical industries
Understand the responsibilities of QA & QC departments
Course content:
Pharmaceutical Quality Assurance UNIT – I
Quality Assurance and Quality Management concepts: Definition and concept of Quality control, Quality assurance and GMP
Total Quality Management (TQM): Definition, elements, philosophies
ICH Guidelines: purpose, participants, process of harmonization, Brief overview of QSEM, with special emphasis on Q-series guidelines, ICH stability testing guidelines
Quality by design (QbD): Definition, overview, elements of QbD program, tools ISO 9000 & ISO14000: Overview, Benefits, Elements, steps for registration NABL accreditation: Principles and procedures
Pharmaceutical Quality Assurance UNIT – II
Organization and personnel: Personnel responsibilities, training, hygiene and personal records. Premises: Design, construction and plant layout, maintenance, sanitation, environmental control, utilities and maintenance of sterile areas, control of contamination.
Equipment and raw materials: Equipment selection, purchase specifications, maintenance, purchase specifications and maintenance of stores for raw materials.
Pharmaceutical Quality Assurance UNIT – III
Quality Control: Quality control test for containers, rubber closures and secondary packing materials.
Good Laboratory Practices: General Provisions, Organization and Personnel, Facilities, Equipment, Testing Facilities Operation, Test and Control Articles, Protocol for Conduct of a Nonclinical Laboratory Study, Records and Reports, Disqualification of Testing Facilities
Pharmaceutical Quality Assurance UNIT – IV
Complaints: Complaints and evaluation of complaints, Handling of return good, recalling and waste disposal.
Document maintenance in pharmaceutical industry: Batch Formula Record, Master Formula Record, SOP, Quality audit, Quality Review and Quality documentation, Reports and documents, distribution records.
Pharmaceutical Quality Assurance UNIT – V
Calibration and Validation: Introduction, definition, and general principles of calibration, qualification and validation, importance and scope of validation, types of validation, and validation master plan. Calibration of pH meter, Qualification of UV-Visible spectrophotometer, General principles of Analytical method Validation.
Warehousing: Good warehousing practice, materials management
Pharmaceutical Quality Assurance Short Notes
Pharmaceutical Quality Assurance (QA) is a vital component of the pharmaceutical industry, ensuring that pharmaceutical products are safe, effective, and of high quality. Here are some key points to note about Pharmaceutical Quality Assurance:
1. Definition: Pharmaceutical Quality Assurance refers to the systematic activities and processes implemented within a pharmaceutical company to ensure that the products meet the required quality standards.
2. Regulatory Compliance: QA plays a crucial role in ensuring compliance with various regulations and guidelines set by regulatory authorities such as the Food and Drug Administration (FDA) or the European Medicines Agency (EMA). These regulations include Good Manufacturing Practices (GMP) and Good Laboratory Practices (GLP).
3. Documentation and Standard Operating Procedures (SOPs): QA involves establishing comprehensive documentation systems and SOPs to guide manufacturing, testing, and other processes. This helps ensure consistency, traceability, and reproducibility of pharmaceutical products.
4. Batch Release: QA is responsible for reviewing and approving batch records, certificates of analysis, and other relevant documents before releasing each batch of pharmaceutical products for distribution. This process ensures that the products meet predefined quality specifications.
5. Risk Assessment and Management: QA conducts risk assessments to identify potential risks associated with various stages of the pharmaceutical product lifecycle, including manufacturing, packaging, storage, and distribution. Risk mitigation strategies are then developed and implemented to minimize or eliminate these risks.
6. Quality Control (QC): QA works closely with QC to establish and maintain quality control systems. QC involves the testing and analysis of raw materials, in-process samples, and finished products to ensure compliance with quality standards. QA oversees QC activities to ensure accuracy, reliability, and consistency of testing.
7. Audits and Inspections: QA conducts internal audits and facilitates external inspections to assess compliance with quality systems and regulations. This helps identify areas for improvement and ensures adherence to established quality standards.
8. Training and Continuous Improvement: QA is responsible for organizing training programs to enhance the knowledge and skills of personnel involved in pharmaceutical manufacturing. Continuous improvement initiatives are also implemented to optimize processes and enhance overall quality.
9. Deviation and Complaint Management: QA investigates and manages deviations from established procedures and customer complaints related to product quality. Corrective and preventive actions (CAPA) are implemented to address identified issues and prevent their recurrence.
10. Validation and Qualification: QA oversees the validation and qualification processes for equipment, systems, and processes used in pharmaceutical manufacturing. This ensures that the equipment and processes consistently produce the desired quality outcomes.
Pharmaceutical Quality Assurance is an integral part of the pharmaceutical industry, ensuring that the highest quality standards are maintained throughout the product lifecycle. By adhering to these standards, pharmaceutical companies can produce safe and effective products for the well-being of patients.
Pharmaceutical Quality Assurance Recommended Books: (Latest Edition)
1. Quality Assurance Guide by organization of Pharmaceutical Products of India.
2. Good Laboratory Practice Regulations, 2nd Edition, Sandy Weinberg Vol. 69.
3. Quality Assurance of Pharmaceuticals- A compendium of Guide lines and Related materials Vol I WHO Publications.
4. A guide to Total Quality Management- Kushik Maitra and Sedhan K Ghosh
5. How to Practice GMP's – P P Sharma.
6. ISO 9000 and Total Quality Management – Sadhank G Ghosh
7. The International Pharmacopoeia – Vol I, II, III, IV- General Methods of Analysis and Quality specification for Pharmaceutical Substances, Excipients and Dosage forms
8. Good laboratory Practices – Marcel Deckker Series
9. ICH guidelines, ISO 9000 and 14000 guidelines