Industrial Pharmacy II Key Aspects and Regulatory Considerations – B. Pharma 7th Semester PDF Notes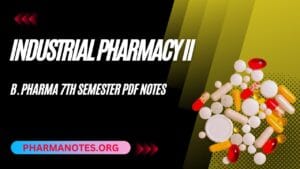 Scope: This course is designed to impart fundamental knowledge on pharmaceutical product development and translation from laboratory to market
Objectives: Upon completion of the course, the student shall be able to:
1. Know the process of pilot plant and scale-up of pharmaceutical dosage forms
2. Understand the process of technology transfer from lab scale to commercial batch
3. Know different Laws and Acts that regulate the pharmaceutical industry
4. Understand the approval process and regulatory requirements for drug products
Course Content:
Industrial Pharmacy UNIT-I
Pilot plant scale-up techniques: General considerations – including the significance  of personnel requirements, space requirements, raw materials, Pilot plant scale up considerations for Tablets, Pilot plant scale-up considerations for Capsules, Pilot plant scale-up considerations for liquid orals, Pilot plant scale-up considerations for semi-solids and relevant documentation, SUPAC guidelines, Introduction to platform technology
Industrial Pharmacy UNIT-II
Technology development and transfer: WHO guidelines for Technology Transfer (TT): Terminology, Technology transfer protocol, Quality risk management, Transfer from R & D to production (Process, packaging, and cleaning), Granularity of TT Process (API, excipients, finished products, packaging materials) Documentation, Premises and equipment, qualification and validation, quality control, analytical method transfer, Approved regulatory bodies and agencies,  Commercialization -practical aspects and problems (case studies), TT agencies in India – APCTD, NRDC, TIFAC, BCIL, TBSE / SIDBI; TT related documentation – confidentiality agreement, licensing, MoUs, legal issues
Industrial Pharmacy UNIT-III
Regulatory Affairs: Introduction, Historical overview of Regulatory Affairs, Regulatory authorities, Role of Regulatory affairs department, Responsibility of Regulatory Affairs Professionals
Regulatory requirements for drug approval: Drug Development Teams, Non-Clinical Drug Development, Pharmacology, Drug Metabolism and Toxicology, General considerations of Investigational New Drug (IND) Application, Investigator's Brochure (IB), and New Drug Application (NDA), Clinical research / BE studies, Clinical Research Protocols, Biostatistics in Pharmaceutical Product Development, Data Presentation for FDA Submissions, Management of Clinical Studies.
Industrial Pharmacy UNIT-IV
Quality management systems: Quality management & Certifications:  Concept  of Quality, Total Quality Management, Quality by Design (QbD), Six Sigma concept, Out of Specifications (OOS), Change control, Introduction to  ISO 9000 series  of quality systems standards, ISO 14000, NABL, GLP
Quality Risk Management
Industrial Pharmacy UNIT-V
Indian Regulatory Requirements: Central Drug Standard Control Organization (CDSCO) and State Licensing Authority: Organization, Responsibilities, Certificate of Pharmaceutical Product (COPP), Regulatory requirements, and approval procedures for new Drugs.
Industrial Pharmacy Notes 7th Semester
Industrial Pharmacy Short Notes: Key Aspects and Regulatory Considerations
Industrial pharmacy is a critical branch of pharmaceutical sciences that encompasses various aspects of drug development, manufacturing, quality control, and regulatory affairs. In this post, we will explore some key areas within industrial pharmacy and highlight the importance of regulatory requirements in the pharmaceutical industry.
Pilot Plant Scale-Up Techniques:
Pilot plant scale-up techniques are employed to transition pharmaceutical formulations from laboratory-scale to commercial-scale production. Industrial pharmacists utilize these techniques to optimize manufacturing processes, assess the scalability of formulations, and ensure consistency and efficiency during large-scale production. Pilot plant studies play a crucial role in determining the feasibility and cost-effectiveness of the manufacturing process.
Technology Development and Transfer:
Industrial pharmacy involves the development and transfer of technology to enable efficient and standardized manufacturing practices. This includes the adoption of innovative technologies, automation, and process optimization. Industrial pharmacists work on developing robust and reproducible manufacturing methods, facilitating the transfer of technology from research and development to commercial production.
Regulatory Affairs:
Regulatory affairs play a pivotal role in industrial pharmacy, ensuring compliance with national and international regulations and guidelines. Industrial pharmacists work closely with regulatory authorities to navigate the complex landscape of drug approvals, licensing, and post-approval compliance. Regulatory affairs professionals help in the preparation and submission of regulatory dossiers, addressing safety, efficacy, and quality aspects of pharmaceutical products.
Regulatory Requirements for Drug Approval:
The pharmaceutical industry is subject to stringent regulatory requirements for drug approval. Industrial pharmacy professionals work to meet these requirements, which include preclinical and clinical studies, documentation of product safety and efficacy, manufacturing process validation, and adherence to good manufacturing practices (GMP). Regulatory authorities evaluate these aspects before granting approval for commercialization and marketing of pharmaceutical products.
Quality Management Systems:
Quality management systems are crucial in industrial pharmacy to ensure consistent quality, safety, and efficacy of pharmaceutical products. Industrial pharmacists establish and maintain robust quality management systems, including quality control, quality assurance, and quality improvement processes. These systems encompass adherence to GMP, documentation practices, training programs, and monitoring of manufacturing processes to achieve and maintain high product quality standards.
Quality Risk Management:
Quality risk management is an integral part of industrial pharmacy, focusing on identifying, assessing, and mitigating risks associated with pharmaceutical manufacturing processes. Industrial pharmacists employ systematic approaches to evaluate and manage risks, ensuring that potential hazards are identified and controlled. This helps in maintaining product quality, patient safety, and regulatory compliance.
Indian Regulatory Requirements:
In India, industrial pharmacy operates within the framework of the Central Drugs Standard Control Organization (CDSCO) and the Drugs and Cosmetics Act. Industrial pharmacists in India must navigate the specific regulatory requirements and guidelines provided by these regulatory authorities. Compliance with Indian regulatory standards is essential for drug approvals, import/export licenses, and post-marketing surveillance.
industrial pharmacy 2 notes pdf Recommended Books: (Latest Editions)
1. Regulatory Affairs from Wikipedia, the free encyclopedia modified on 7th April available at http,//en.wikipedia.org/wiki/Regulatory_
Affairs.
2. International Regulatory Affairs Updates, 2005. available at http://www.iraup.com/about.php
3. Douglas J Pisano and David S. Mantus. Textbook of FDA Regulatory Affairs A Guide for Prescription Drugs, Medical Devices, and Biologics' Second Edition.
4. Regulatory Affairs brought by learning plus, inc. available at http.//www.cgmp.com/ra.htm.