Extraction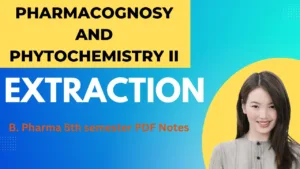 Objectives
At the end of the session, student will be able to
•       Discuss the principle of Pressurized liquid/fluid extraction and enzyme assisted extraction
•        Explain the advantages and disadvantages Pressurized liquid/fluid extraction and EAE
Pressurized liquid extraction
Ø  Pressurized liquid extraction (PLE or PFE in case of a general fluid) is a novel and eco-friendly approach for the recovery of bioactives from plants
Ø  This method often requires water as the solvent and so it can keep away from the environmental and health risks due to the use of organic solvents
Ø  At elevated temperatures there is a reduction of the viscosity of the solvent that can better penetrate the matrix extracting the analytes of interest
Ø  The elevated pressure permits maintaining the solvent in the liquid phase and the disruption of plant cells wall exerting pressure on the matrix
Ø  In place of organic solvents, it is possible to use additives like non-ionic surfactants, antioxidants like ascorbic acid
Ø  Furthermore, PLE apparatus protects light sensitive and oxygen sensitive products from degradation
Enzyme assisted extraction
•       An alternative approach to classical solvent extraction techniques is the enzyme-assisted extraction
•       This method is innovative and convenient
•       Enzymes catalyze reactions in a specific way without operating under strong conditions that could lead to the degradation of the desired products.
•       cellulases, hemicellulases and pectinases disrupt cell wall with the hydrolysis of its components leading to a major permeability and allowing an easier release of the metabolites from plants
•       The application of enzymes such as lipases, proteases, phospholipases, permits to reduce the use of the solvent for the extraction
•       For oil extraction from plants, cellulase, α-amylase and pectinase are the most used enzymes. These proteins can be obtained from fungi, bacteria, animals, and vegetables or from genetic engineering methods
•       They can be used to recover a specific bioactive compound in high yields without wasting too much energy
•       Nevertheless, there are some limitations due to the cost of the enzymatic approach, the incomplete disruption of the cell wall and the complicated application in a commercial scale because of the different behaviour of the enzymes according to the environmental circumstances such as the amount of oxygen, the variety of nutrients and the operating temperature
Advantages of Pressurized Fluid Extraction
High Extraction Efficiency
PLE/PFE is known for its high extraction efficiency, ensuring that a significant proportion of the target compounds are recovered.
Reduced Solvent Usage
Compared to traditional extraction methods, PLE/PFE typically requires less solvent, making it a more environmentally friendly option.
Disadvantages of Pressurized Liquid/Fluid Extraction
Equipment Complexity
One of the drawbacks of PLE/PFE is the complexity of the equipment required, which can be costly and challenging to maintain.
High Initial Investment
Setting up a PLE/PFE system requires a substantial initial investment, limiting its accessibility to smaller enterprises.
Advantages of Enzyme Assisted Extraction
Environmentally Friendly
EAE stands out for its environmentally friendly approach, as it often requires milder operating conditions and reduced solvent usage.
Mild Operating Conditions
EAE works well under mild conditions, preserving the integrity of heat-sensitive compounds.
Disadvantages of Enzyme Assisted Extraction
Specific Enzyme Requirement
EAE is highly specific and may require particular enzymes, which can limit its applicability to certain substances.
Longer Extraction Time
The enzymatic breakdown process can be time-consuming, especially when dealing with complex matrices.
Applications in Industry
Where PLE/PFE Excels
PLE/PFE finds application in industries requiring high extraction efficiency, such as pharmaceuticals and petrochemicals.
EAE's Niche
EAE is particularly suited for industries focused on natural products and bioactive compounds due to its gentle extraction process.
Overcoming Limitations
Improving PLE/PFE
Researchers are continually working to enhance PLE/PFE equipment and processes, making them more cost-effective and user-friendly.
Enhancing EAE
Improving enzyme stability and specificity is an ongoing effort in the development of EAE methods.
Frequently Asked Questions (FAQs)
Q1: Which industries benefit the most from PLE/PFE?
PLE/PFE is highly beneficial in industries like pharmaceuticals, petrochemicals, and environmental analysis.
Q2: Can EAE be used for all types of compounds?
EAE is more effective for compounds that require gentle extraction methods, such as natural products and bioactive substances.
Q3: How can the complexity of PLE/PFE equipment be managed?
Proper training and maintenance are essential for managing the complexity of PLE/PFE equipment.
Q4: Are there any cost-effective variants of EAE available?
Researchers are actively working on developing cost-effective EAE methods with broader applicability.
Q5: What are the key considerations for choosing between PLE/PFE and EAE?
The choice between PLE/PFE and EAE depends on the specific requirements of the extraction process and the nature of the compounds involved.
Summary
Pressurized liquid extraction (PLE or PFE in case of a general fluid) is a novel and eco-friendly approach for the recovery of bioactives
Water as the solvent and so it can keep away from the environmental and health risks
An alternative approach to classical solvent extraction techniques is the enzyme-assisted extraction
Enzymes catalyze reactions in a specific way without operating under strong conditions
Lipases, proteases, phospholipases, permits to reduce the use of the solvent for the extraction
For oil extraction from plants, cellulase, α-amylase and pectinase are the most used enzymes
 For PDF Notes Click on Download Button