COAGULANT & ANTICOAGULANTS AGENTS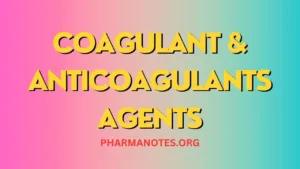 COAGULANT & ANTICOAGULANTS AGENTS
The medicine used for the clotting of blood is called coagulation and in the process, blood forms solid masses or clots.
There are thirty different types of cells and substances in the blood that affect clotting and the process is initiated by blood platelets.
Platelets produce a substance that combines with calcium ions in the blood to form thromboplastin, which in turn converts the protein prothrombin into thrombin in a complex series of reactions.
Thrombin, a proteolytic enzyme, converts fibrinogen, a protein substance, into fibrin, an insoluble protein that forms an intricate network of minute thread-like structures called fibrils and causes the blood plasma to gel.
The blood cells and plasma are enmeshed in the network of fibrils to form the clot.
Anticoagulant agent is used to prevent the formation of blood clots and to maintain open blood vessels.
Anticoagulants are called blood "thinners," but they do not thin the blood, they only prevent or reduce clots or thrombi.
Anticoagulant is used for the treatment of thromboembolic disorders, such as stroke, heart attack, and deep venous thrombosis.
CLASSIFICATION

 
BASED ON MECHANISM
Indirect thrombin inhibitors
– Heparin,
– Fondapatinux,
– Danaparoid
Direct thrombin inhibitors
– Lepirudin,
– Bivalirudin,
– Argatroban
BASED ON PARENT NUCLEUS
Comouarin
– Warfarin
Indanedione
– Anisindione
Thienopyridine
– Clopidogrel
1,4 napthoquinone
– Menadione, Acetomenadione
MECHANISM OF COAGULANT & ANTICOAGULANTS AGENTS
MENADIONE
CHEMICAL STRUCTURE
IUPAC NAME
2-methylnaphthalene-1,4-dione
USES
1. Manadione is used as a nutritional supplement in the place of vitamin K activity.
2. It can serve as a precursor to various types of vitamin K
3. Manadione is used in the treatment of hypoprothrombinemia
ACETOMENADIONE
CHEMICAL STRUCTURE
IUPAC NAME
(4-acetyloxy-3-methylnaphthalen-1-yl) acetate
USES
1. Acetomenadione is used for the treatment of Coagulation disorders due to vitamin K deficiency.
2. Acetomenadione is a medicine that is used for the anticoagulant-induced prothrombin deficiency and other conditions.
WARFARIN
CHEMICAL STRUCTURE
IUPAC NAME
4-hydroxy-3-(3-oxo-1-phenylbutyl)-2H-chromen-2-one
USES
1. Warfarin is used to treat blood clots and it helps to keep blood flowing smoothly in your body by decreasing the amount of clotting proteins in your blood.
2. Warfarin is preventing harmful blood clots helps to reduce the risk of a stroke or heart attack.
3. Warfarin is commonly called a "blood thinner"
Synthesis of Warfarin
ANISINDIONE
CHEMICAL STRUCTURE
IUPAC NAME
2-(4-methoxyphenyl)-1H-indene-1,3(2H)-dione
USES
1. Anisindione is an anticoagulant
2. Anisindione prevents the formation of active procoagulation factors and anticoagulant proteins in the liver by inhibiting the vitamin K–mediated gammacarboxylation.
CLOPIDOGREL
CHEMICAL STRUCTURE
IUPAC NAME
Methyl 2-(2-chlorophenyl)-2-(6,7-dihydrothieno[3,2-c]pyridin5(4H)-yl)acetate
USES
1. Clopidogrel is used to prevent heart attacks and strokes in persons with heart disease, or recent stroke, or blood circulation disease.
2. Clopidogrel is also used with aspirin to treat new/worsening chest pain
3. Clopidogrel works by blocking platelets from sticking together and prevents them from forming harmful clots.
Also, Visit: B. Pharmacy Notes | B. Pharma Notes | Study material Bachelor of Pharmacy
B. Pharma 8th Semester Previous Year Question Paper