Medicinal Chemistry Quiz 1: Exploring the World of Drug Discovery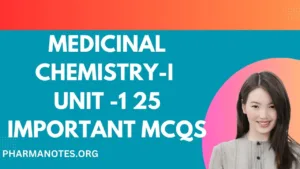 Medicinal chemistry is an intriguing field that plays a vital role in the development of new drugs. It combines chemistry and pharmacology to design and discover effective medications that can improve and save lives. If you're interested in learning more about this fascinating subject, what better way than to test your knowledge through a Medicinal Chemistry Quiz?
Medicinal Chemistry Quiz 1:
Frequently Asked Questions (FAQs) 
What is Medicinal Chemistry, and why is it important?

Medicinal Chemistry is the branch of science that deals with the design and development of pharmaceutical agents, such as drugs. It is crucial for creating effective medications that treat various medical conditions and improve healthcare.

What are the fundamental principles of Medicinal Chemistry?

The fundamental principles of Medicinal Chemistry include the structure-activity relationship (SAR), which explores how the chemical structure of a compound affects its biological activity. Additionally, it involves drug design, synthesis, and the study of pharmacological properties.

How can I prepare for a Medicinal Chemistry exam or quiz effectively?

To prepare effectively, focus on mastering the basics, using reliable study materials, managing your time wisely, and practicing with quizzes or sample questions. Effective note-taking and self-assessment are also key strategies.

What career opportunities are available for those with expertise in Medicinal Chemistry?

Medicinal Chemistry experts can pursue careers as medicinal chemists, pharmaceutical researchers, drug developers, or work in pharmaceutical companies, research institutions, and regulatory agencies.

Where can I find additional resources for learning Medicinal Chemistry?

You can find additional resources in libraries, online educational platforms, textbooks, and research journals. Many universities and institutions offer online courses or lectures related to Medicinal Chemistry for in-depth learning.
Also, Visit:
B. Pharma Notes | B. Pharma Notes | Study material Bachelor of Pharmacy pdf
B. Pharma 8th Semester Previous Year Question Paper