Pharmaceutical Biochemistry Quiz 1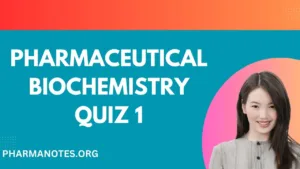 Introduction
Pharmaceutical biochemistry is a fascinating field that delves into the molecular intricacies of drugs and their interactions with living organisms. In this quiz, we will test your knowledge and understanding of key concepts in pharmaceutical biochemistry. So, let's get started and see how well you grasp the foundations of this critical field.
Pharmaceutical Biochemistry Quiz
Frequently Asked Questions
1. What is the primary goal of pharmaceutical biochemistry?
Pharmaceutical biochemistry aims to understand the chemical processes and interactions of drugs within the human body to improve drug development and patient outcomes.
2. How does drug structure influence its effectiveness?
The structure of a drug molecule can significantly affect its efficacy, safety, and mechanisms of action, making it a critical consideration in pharmaceutical biochemistry.
3. What is personalized medicine, and how does it relate to pharmaceutical biochemistry?
Personalized medicine tailors treatments to an individual's genetic makeup, and pharmaceutical biochemistry plays a pivotal role in making this approach a reality.
4. Why is it essential to consider drug safety and ethics in drug development?
Ensuring drug safety and adhering to ethical principles are crucial for protecting patient well-being and maintaining public trust in pharmaceutical innovations.
5. How can I learn more about pharmaceutical biochemistry and its applications?
To dive deeper into pharmaceutical biochemistry, you can explore academic programs, research articles, and industry publications.
Also, Visit:
B. Pharma Notes | B. Pharma Notes | Study material Bachelor of Pharmacy pdf
B. Pharma 8th Semester Previous Year Question Paper